WILLIAM H. BONNEY – BILLY THE KID
Born Henry McCarty; September 17 or November 23, 1859 – July 14, 1881, also known by the pseudonym William H. Bonney, was an outlaw and gunfighter of the American Old West, who killed eight men before he was shot and killed at the age of 21. He also fought in New Mexico's Lincoln County War, during which he allegedly committed three murders.
McCarty was orphaned at the age of 15. His first arrest was for stealing food, at the age of 16, in late 1875. Ten days later, he robbed a Chinese laundry and was again arrested, but escaped shortly afterwards. He fled from New Mexico Territory into neighboring Arizona Territory, making himself both an outlaw and a federal fugitive. In 1877, McCarty began to call himself "William H. Bonney". Two versions of a wanted poster dated September 23, 1875, refer to him as "Wm. Wright, better known as Billy the Kid".
After killing a blacksmith during an altercation in August 1877, McCarty became a wanted man in Arizona and returned to New Mexico, where he joined a group of cattle rustlers. He became well known in the region when he joined the Regulators and took part in the Lincoln County War of 1878. McCarty and two other Regulators were later charged with killing three men, including Lincoln County Sheriff William J. Brady and one of his deputies.
McCarty's notoriety grew in December 1880 when the Las Vegas Gazette, in Las Vegas, New Mexico, and The Sun, in New York City, carried stories about his crimes. Sheriff Pat Garrett captured McCarty later that month. In April 1881, McCarty was tried for and convicted of Brady's murder, and was sentenced to hang in May of that year. He escaped from jail on April 28, killing two sheriff's deputies in the process and evading capture for more than two months. Garrett shot and killed McCarty, by then age 21, in Fort Sumner on July 14, 1881. During the following decades, legends grew that McCarty had survived, and a number of men claimed to be him. Billy the Kid remains one of the most notorious figures from the era, whose life and likeness have been frequently dramatized in Western popular culture.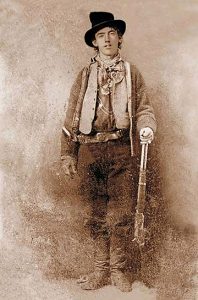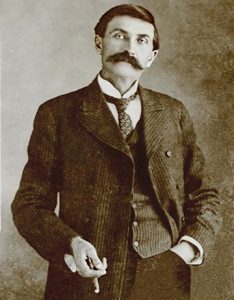 – Wikipedia